Upcoming Events:
Ebertfest is happening from April 19th through the 22nd. Details of films and events can be found at http://www.ebertfest.com/ and https://www.facebook.com/Ebertfest.

AIR is sponsoring the documentary film "My Name is Sara" http://www.ebertfest.com/films/my-name-sara at 4:00PM Saturday, April 22nd and will have representation at the Q&A directly following the film. We have a limited number of festival passes and several tickets to My Name is Sara, so please contact Shandra Summerville at [email protected] if you are interested in attending.

We will also host the 'traditional' outdoor Art Show and Sale directly in front of the Virginia theater, 10:00AM to 4:00PM, Saturday, April 22nd. Be sure to visit the artists and entrepreneurs who are members of AIR in the big tent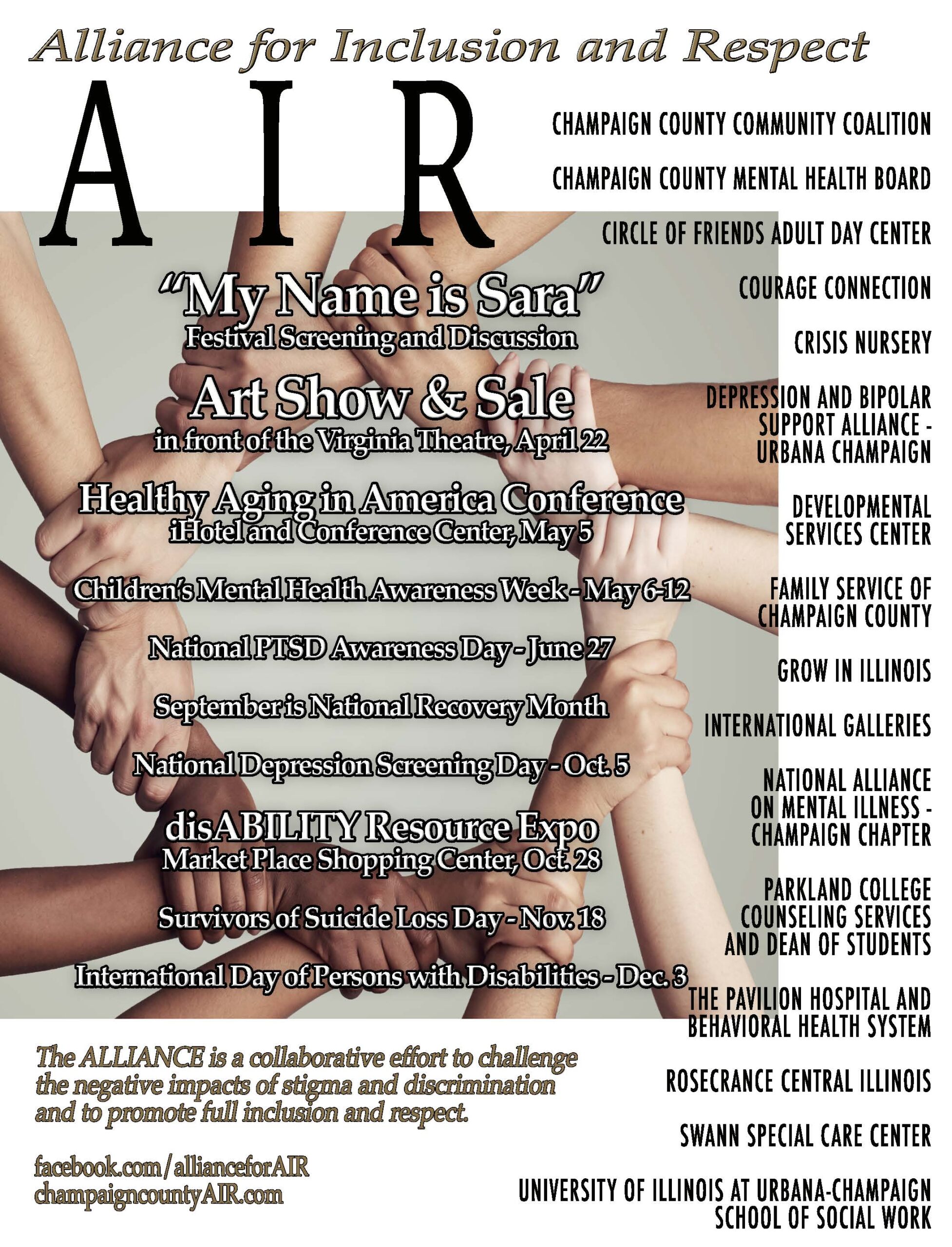 Ebertfest 2023 Film Schedule :
Wednesday, April 19th, 6:30PM
Thursday, April 20th, 9:30AM, 2:00PM, 4:00PM, 9:00PM  
 "Tokyo Story"
  "The Cabinet of Dr. Caligari"
  "My Name Is Sara"
   "American Folk 
Friday, April 21st, 10:00AM, 2:30PM, 7:30PM  
     "To Leslie"
     "Marian Anderson: The World in Her Hands"
     "In & Of Itself
Saturday, April 22nd, 9:00AM, 9:00AM, 10:30AM, 3:00PM, 8:30PM
     "Club Alli" (Double Short Feature)
     "Team Dream" (Double Short Feature)
     "Fresh"
      "Wings of Desire"
       "Forrest Gump"   
Upcoming Events Cont.
• Healthy Aging in America Conference
Monday, May 5th
• Children's Mental Health Awareness Week
Tuesday, May 6-12th
• National PTSD Awareness Day
Friday, June 27th
• "Treatment Works!" Month
Entire month of September
• National Depression Screening Day
Thursday, October 5th
• 14 Annual DISABILITY Resource Expo
Saturday, October 28th
• Survivors of Suicide Loss Day
Saturday, November 18th
• International Day of People with Disabilities
Saturday, December 3rd
Past Events:
• Children's Mental Health Awareness Week Tuesday, May 17th 2022
• National PTSD Awareness Day Friday, May 27th 2022
• "Treatment Works!" Month Entire month of September 2022
• National Depression Screening Day Wednesday, October 5th 2022
• DISABILITY Resource Expo Saturday, October 22nd 2022
• Survivors of Suicide Loss Day Saturday, November 19th 2022
• International Day of People with Disabilities Saturday, December 3rd 2022
• Children's Mental Health Awareness Week Tuesday, May 17th 2021
• National PTSD Awareness Day Friday, May 27th 2021
• "Treatment Works!" Month Entire month of September 2021
• National Depression Screening Day Tuesday, October 5th 2021
• Survivors of Suicide Loss Day Saturday, November 19th 2021
• International Day of People with Disabilities Saturday, December 3rd 2021
• Individuals served by DSC sold earth-friendly, handmade goods at The Crow at 110 located at 110 E. University in Champaign (across from Habitat for Humanity). Plans for the site include a gift shop that will promote the arts.
• News & Brews: How Children's Mental Illnesses Affect Families, May 28, 2019
• Suicide Intervention Training, May 23, 2019
• National Older Adult Mental Health Awareness Day May 20, 2019
• CU Trauma and Resiliency Walk as One, "Trauma Informed Care Awareness Day," May 15, 2019
• Self Help Conference, "Community Collaboration in Times of Need," May 3, 2019
• Miss Illinois Mental Health Talk, in collaboration with NAMI on Campus UIUC, April 23, 2019
• Big Tent Art Show and Sale, outside the Virginia Theatre during Ebertfest, April 13, 2019
• Display of Circle of Friends Art, inside the Virginia Theatre during Ebertfest, April 10-13
• "Rachel Getting Married," sponsored anti-stigma film in Ebertfest, April 11, 2019
• Ebertfest Panel Discussion on Stigma and the Arts, April 11, 2019
• 12th Annual disABILITY Resource Expo – March 30, 2019
Links of Interest: