Coming Soon:
LEAP Training – February 21, 2018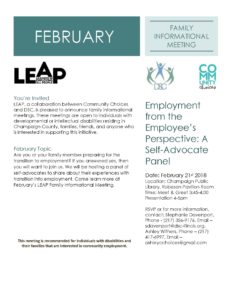 11th disABILITY Resource ExpoApril 7, 2018, 9AM to 2PM, at the Vineyard Church in Urbana, IL. Please visit the Expo website for details of the event and more.

Two people at a registration table, facing the viewer, one facing away.

20th Roger Ebert's Film Festival

During the festival, April 18-22, 2018, we will sponsor a film which challenges negative characterizations and assumptions about disabilities or behavioral health conditions. Please join us for the film, panel discussions, and art, to raise awareness and promote inclusive communities.

Statue of Roger Ebert with 'thumbs up' gesture, in front of the Virginia Theatre.

ART SHOW at the Film FestivalOn Saturday, April 21, from 11AM to 6PM, come visit us in a tent at the entrance to the Virginia Theatre! We'll be selling all sorts of original art, books, and treasures, and we're very good company.

AIR banner for art sale, with person holding it.
 Past Events:
Survivors of Suicide Loss Day – November 18, 2017
Celebrate disABILITY – Music and Art Festival – October 21
Depression Screening Day Event – October 19
Self-Help Center Facilitator Workshop: Moving from Conflict to Connection- October 6
Children's Mental Health Awareness Day – May 4
disAbility Resource Expo Exhibitor Meet & Greet, Vineyard Church – May 4
"Building Inclusive Communities," presentation by David Wetherow, Brookens Administration Building – May 5
Mental Health Awareness Week – May 8-14
19th Annual Roger Ebert's Film Festival – April 19-23 at the Virginia Theatre: the festival was dedicated to the Alliance for Inclusion & Respect and to the principles of kindness, compassion, empathy, and forgiveness; our sponsored 'anti-stigma' film was "Mind/Game – the Unquiet Journey of Chamique Holdsclaw" and will be shown on Saturday, April 22, with an extended Q&A directly after the film, including our own members: Juli Kartel, Joseph Omo Osagie, and Dr. Carla Hunter; the director of the film visited local youth, for a high school screening and discussion of the film, on Friday April 21; and
Annual Big Tent Art Show and Sale was held on Saturday, April 22 from 9AM to 5PM, in front of the Virginia Theatre.
Links of Interest: