Upcoming Events:
Every month, an AIR Artist is featured at International Galleries in Lincoln Square Village in Urbana. For December, it's the Best of 2019. Shop often and well!
Every Saturday, an AIR artist/author/entrepreneur is featured at the Market IN the Square, also at Lincoln Square Village. Follow us on Facebook for details of each week's show!
Individuals served by DSC will be selling earth-friendly, handmade goods at The Crow at 110 located at 110 E. University in Champaign (across from Habitat for Humanity).  Plans for the site include a gift shop that will promote the arts.
13th disABILITY Resource Expo March 28, 2020, 9AM to 2PM, at the Vineyard Church in Urbana, IL. Please visit the Expo website for details of the event and more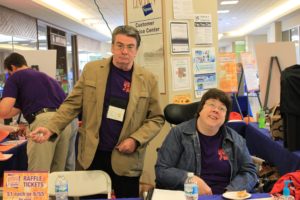 Big Tent Art Show and Sale, outside the Virginia Theatre during Ebertfest, April 18, 2020
Also during Ebertfest, April 15-18, AIR Art will be on display inside the Virginia Theatre, we will sponsor an anti-stigma film, and we will participate in a panel discussion on Stigma and the Arts.
Past Events:
UNConference Informational Session Leader Workshops, May 30, 2019
News & Brews: How Children's Mental Illnesses Affect Families, May 28, 2019
Suicide Intervention Training, May 23, 2019
National Older Adult Mental Health Awareness Day  May 20, 2019
CU Trauma and Resiliency Walk as One, "Trauma Informed Care Awareness Day," May 15, 2019
Self Help Conference, "Community Collaboration in Times of Need," May 3, 2019
Miss Illinois Mental Health Talk, in collaboration with NAMI on Campus UIUC, April 23, 2019
Big Tent Art Show and Sale, outside the Virginia Theatre during Ebertfest, April 13, 2019
Display of Circle of Friends Art, inside the Virginia Theatre during Ebertfest, April 10-13
"Rachel Getting Married," sponsored anti-stigma film in Ebertfest, April 11, 2019
Ebertfest Panel Discussion on Stigma and the Arts, April 11, 2019
12th Annual disABILITY Resource Expo – March 30, 2019
National Stepping Up Day – May 16, 2018
Anti-Stigma Film in the 20th Roger Ebert Film Festival – April 21, 2018
Ebertfest Art Show – April 21, 2018
11th Annual disABILITY Resource Expo – April 7, 2018
LEAP Training – February 22, 2018
Survivors of Suicide Loss Day – November 18, 2017
Celebrate disABILITY – Music and Art Festival – October 21, 2017
Depression Screening Day Event – October 19, 2017
Self-Help Center Facilitator Workshop: Moving from Conflict to Connection- October 6, 2017
Children's Mental Health Awareness Day – May 4, 2017
disAbility Resource Expo Exhibitor Meet & Greet, Vineyard Church – May 4, 2017
"Building Inclusive Communities," presentation by David Wetherow, Brookens Administration Building – May 5, 2017
Mental Health Awareness Week – May 8-14, 2017
19th Annual Roger Ebert's Film Festival – April 19-23, 2017 at the Virginia Theatre: the festival was dedicated to the Alliance for Inclusion & Respect and to the principles of kindness, compassion, empathy, and forgiveness; our sponsored 'anti-stigma' film was "Mind/Game – the Unquiet Journey of Chamique Holdsclaw" and will be shown on Saturday, April 22, with an extended Q&A directly after the film, including our own members: Juli Kartel, Joseph Omo Osagie, and Dr. Carla Hunter; the director of the film visited local youth, for a high school screening and discussion of the film, on Friday April 21; and
Annual Big Tent Art Show and Sale – April 22, 2017
Links of Interest: